As new technology and software are developed each day, it is important to always be evaluating your organization's technology stack.
You might be asking yourself, "What is a tech stack?". Simply put, a tech stack is the technology that an organization uses across all its major functions such as accounting, HR, payroll, marketing, sales, customer service, etc.
Working at a public accounting firm, we often focus on the financial aspects of a technology stack but it is important to also think about the technology used across the entirety of an organization and evaluate:
Are the technologies used maximizing efficiency?
Do the technologies used integrate with each other?
Do the technologies used make employees' lives easier or harder?
When is the last time you reviewed what new technologies are available?
Are you paying for any technology that is not providing the value that you thought it would?
Are you still performing tasks through a painful manual process?
Most organizations would answer unfavorably to at least one of the questions above and could benefit from reevaluating their tech stack.
Improving your tech stack can provide a handful of benefits across an organization, including:
Streamlined workflows and increased efficiencies
Improved user, employee, and customer experiences
Reduced costs and decreased chance for human error
Increased transparency and communication across the organization
We have seen our clients benefit from evaluating their tech stack time and time again and make it a primary discussion point anytime we are meeting with a new or prospective client. We also make sure to do this within our own teams to ensure we are offering the best technology options that make the most sense for our staff and clients that we partner with. In our Client Accounting Service (CAS) practice our tech stack currently includes:
Quickbooks Desktop
The accounting software that we have been using the longest is Quickbooks Desktop, which is an out-of-the-box entry level accounting software that is a great option for organizations that have more basic reporting and accounting needs. This is the only software that we use that is not cloud-based, which does limit Quickbooks Desktop's ability to integrate with other software.
Quickbooks Online
Our CAS team also uses Quickbooks Online, which is a cloud-based version of Quickbooks Desktop. This software offers more advanced capabilities along with increased integration capabilities and a more modern user interface. This software is another out-of-the-box accounting software that has limited reporting capabilities but is a popular choice for organizations with more simple reporting needs due to its ease of use and cost.
Sage Intacct
The most popular accounting software that we utilize is Sage Intacct. This cloud-based software is a great option for small to large organizations due to its ability to provide complex reporting and scale with any organization. Through custom reporting, dimensions, dashboards, and custom workflows, Sage Intacct can truly bridge gaps across your organization and replace all the excel spreadsheets that you currently use. Here is an example of a Sage Intacct dashboard that reflects just a fragment of the custom reporting and dashboard abilities of this software: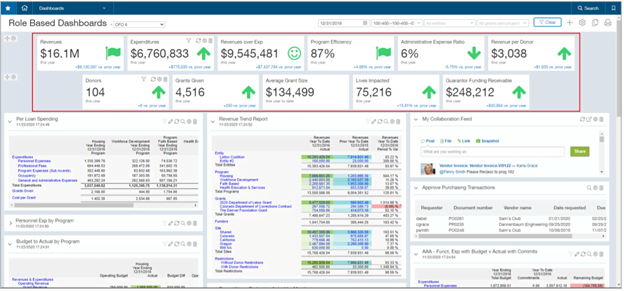 Bill.com
Bill.com is a cloud-based Accounts Payable and Accounts Receivable software that integrates very well with Sage Intacct and Quickbooks Online. This software provides user-friendly approval workflows, check and electronic payment options, receipt of electronic payments, custom user roles to ensure internal controls, and document storage options. We utilize Bill.com for all our CAS clients needing accounts payable services.
Nexonia and Expensify
We utilize both Nexonia and Expensify to meet expense reimbursement and credit card reporting needs of our clients. Both software options are cloud-based and integrate with Sage Intacct and Quickbooks Online. These technologies create efficiencies and audit trails for employee reimbursements, credit card transaction entry, and receipt tracking.
If you have any questions regarding your technology stack, any of the software options included in our technology stack, or any of the services offered by our client accounting services team please reach out to us.