Now more than ever it is important for organizations that receive federal funding to familiarize themselves with the basics of the compliance process.
With a 20% increase in single audits performed from 2019 to 2021, it is likely your organization may be required to have a Single Audit in the coming years. For many organizations, beginning to wade through the criteria, requirements, and implications of Single Audits can feel daunting.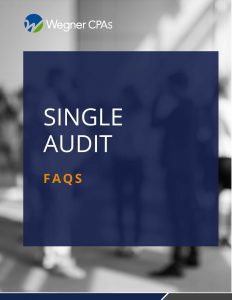 In response, our experts have created this guide to address the fundamental questions that may arise as you begin to unravel the intricacies of the Single Audit process, such as:
Where do we start?
Will I need a Single Audit?
What is Uniform Guidance?
Is my organization a subrecipient or contractor?
And more!
This resource is meant to serve as an initial reference for those unfamiliar with Single Audits, and we recommend you reach out to our grant compliance experts for more in-depth answers to any questions you may have.
View the Single Audit FAQ Guide