Congratulations! After months spent researching, writing, and submitting grant proposals, your organization has been notified that it has been selected for a grant award!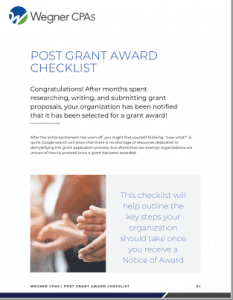 After the initial excitement has worn off, you might find yourself thinking, "now what?"
A quick Google search will show that there is no shortage of resources dedicated to demystifying the grant application process, but oftentimes tax-exempt organizations are unsure of how to proceed once a grant has been awarded. Fill out the form below to download a post grant award checklist that will help outline the key steps your organization should take once you receive a Notice of Award.
View the Post Grant Award Checklist