Both QuickBooks and QuickBooks Online are excellent tools to help ensure your business is keeping up-to-date and accurate financial records.
As a business owner, keeping these accurate financial records is essential for several reasons:
Legal Compliance: You are required by law to maintain accurate financial records, including records of all business transactions, expenses, and income. Failure to do so can result in fines, penalties, and can even lead to legal action against your business.
Tax Compliance: Accurate financial records help ensure that you pay the right amount of taxes and file your tax returns correctly and on time. If you don't keep accurate records, you may overpay or underpay taxes, leading to problems with the tax authorities.
Financial Control: Keeping accurate financial records allows you to monitor your business's financial performance, track cash flow, and identify potential problems early. This helps you make informed decisions about your business's future, such as whether to invest in new equipment, expand your operations, or hire additional staff.
Better Financial Planning: Accurate financial records provide the information you need to create realistic budgets, forecast future cash flow, and plan for the future. This allows you to make better-informed decisions about your business's finances and to set realistic financial goals.
Access to Financing: If you ever need to apply for a loan or seek investment from investors, having accurate financial records is essential. Lenders and investors will want to see detailed financial records to assess your business's financial health and decide whether to provide financing or investment.
Whether you work in manufacturing, real estate, or own a small business, keeping accurate financial records in QuickBooks is crucial for the success of your organization. Accurate records help you comply with legal and tax requirements, monitor financial performance, plan for the future, and access financing when you need it.
One important aspect of managing your finances is the accounting month-end close process. This process helps you reconcile your accounts, update your financial statements, and ensure that your books are accurate.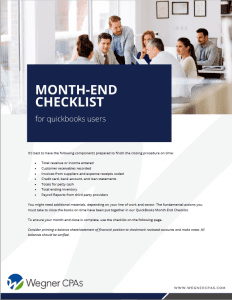 Download the QuickBooks Month-End Checklist
Download our QuickBooks Month-End Checklist to guide your month-end close process so you can guarantee that your financial records are accurate and up-to-date. This downloadable guide will help you make informed decisions about your business and stay on top of your finances in QuickBooks.